The CAA Part 102 Unmanned Aircraft Operator Certificate demonstrates that the New Zealand Civil Aviation Authority (CAA) is satisfied that our operating and safety procedures are robust. Consequently, we can operate beyond the limits of the Part 101 rules, which other non-certified drone operators must abide by.
Drones can pose a hazard to people, property, and other aircraft if they're not operated safely and legally in accordance with CAA regulations.
What is a Part 102 certification?
Part 102 is a New Zealand civil aviation rule that addresses the immediate safety risks associated with the use of unmanned aircraft systems, including drones.
In order to obtain the Part 102 Unmanned Aircraft Operator Certificate, we applied to the CAA, submitting a detailed manual describing our operations, maintenance, and safety procedures.
By issuing the certificate, the CAA confirms that we are using best practice to plan jobs comprehensively, identify and mitigate risks, and conduct our drone operations safely and professionally.
Our Part 102 application covered areas such as:
Identifying the hazards to people, property, and other aircraft when conducting our operation, with an assessment of the risks associated with each hazard, and measures to mitigate or manage the risk.
Understanding airspace and following correct procedures for requesting authorisation to operate in restricted areas.
Providing details about our drones and the control systems used to pilot them, as well as maintenance procedures and methods to ensure the continued airworthiness of the drones.
Detailing inflight procedures.
We also underwent a practical flying assessment.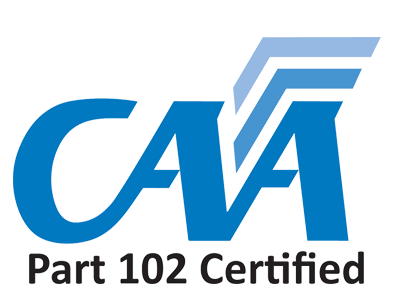 Our unmanned aircraft operator certificate
higher than 400 feet (120 metres) above ground level
at night
within 4 km of an airport or helipad without prior permission.
Companies looking for a Part 102-certified operator from Auckland northwards can be assured that we know how to fly our drones safely, and that we're trusted, professional, and have robust health and safety procedures and documentation.