Aerial Vision was created by Glenn and Deb McLelland in 2012. Based in the Bay of Islands, they provide high-quality photography and video solutions for clients from a wide spectrum of industries, as well as individuals. Aerial Vision uses cutting-edge photographic, video and drone equipment, and follows Civil Aviation Authority and industry best practice.
Glenn's background as a professional photographer and IT technician, combined with a passion for invention and a creative streak, led him to adapt drones as flying camera platforms. Glenn has been building and flying drones since 2011, so he knows how to make them operate reliably and with precision. Deb, the organisational arm of the operation, especially enjoys turning clients' vision into reality. As a team, Glenn and Deb have earned a reputation for practicality, creativity, and a can-do approach that gets results.
Aerial Vision's main service area covers the Far North of New Zealand and includes Kerikeri, Paihia, Russell, Whangarei, the Hokianga area, and Kaitaia. Aerial Vision is a portable operation and can operate further afield if required. Get in touch with us for more information.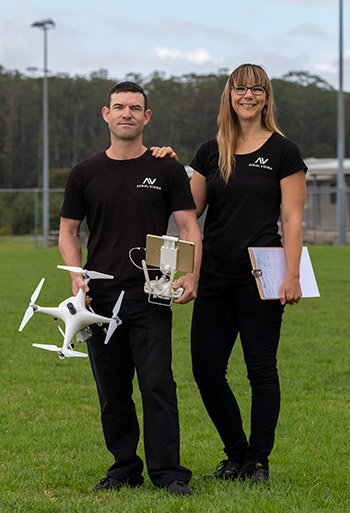 "We were delighted with the images that we received from Aerial Vision. Their attention to detail, professionalism and friendly service make them a pleasure to deal with. We would highly recommend them to others seeking high quality images to enhance or promote their business."
"AV's attitude, creativity, approach and professionalism shines through and I'm very happy with the photos produced for me. I wish them all the best for future in this field, thanks again!"
David Kirkland
Cabinet maker
"L'Oreal Professionnel used Glenn and Deb to take photos of hair show's we provided to the hairdressing industry. They are always professional, on time and provide quality work, and have a can-do no-fuss approach! Highly recommend!"
Hayley Pullyn
National Technical Manager, L'Oreal Professionnel
"The team at AV are total professionals, could not be happier with the pictures from the shoot at our Motel and grounds in the Bay of Islands, cant wait to get them online. Recommend."
"Due North PR just completed a project with Deb and Glenn, and they were brilliant to work with.
The job was a big ask with a short-as delivery deadline. Aerial Vision was part of a wider team pulled together to deliver the project for a Due North client. We (and our client) are delighted with the results.
Teamwork was key to delivering those results, and Aerial Vision demonstrated that they are fab team players. I was particularly grateful for their client management skills and sensitivity. This meant that I could leave them to work directly with our valued client to organise what needed to be organised, without feeling I needed to be piggy-in-the-middle."
We make use of the latest technology, including cutting-edge camera gear and drones matched to the requirements of each project we work on. We also use software that makes it easy for you to view the recorded images and video, and discuss the final product with us.
For the best-quality aerial photos, we use the latest drone and camera technology. This results in images that are detailed and clear. The high resolution of the files allows them to be blown up considerably while maintaining quality.
For aerial surveys we use a drone which can fly for up to 25 minutes at a time and survey as much as 100 hectares per flight. We also use high-precision RTK GPS gear to measure centimetre accurate ground control points to ensure the absolute accuracy of surveys we undertake.
Aerial Vision holds a Part 102 Unmanned Aircraft Operator Certificate with the CAA.